Hermetic Glass Doors
Randa (Manusa) hermetic doors unite the advantages of an automatic door with the seal and hygiene required in clean room environments. The whole door assembly is designed to guarantee hygiene, recessed vision panel, door handle, easy cleaning materials. It is equipped to hermetically seal the opening.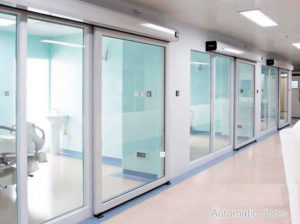 Clear view glass hermetic doors allows observation rooms to be insulated without losing visibility from inside. For moments in which a certain degree of privacy is required, there is the option of self-dimming glass or glass equipped with integrated venetian blind. Lead lined doors for radiology rooms, with option of a lead lined vision panel, to prevent the escape of x-rays. Available as hermetic and non-hermetic doors depending on the requirements of the area.
OPERATORS FOR GLASS DOOR:
Visio:
DESIGN AND ELEGANCE IN A 10 CM HEADER FRAME.
FAST AND EASY INSTALLATION.
UNIVERSAL MOTOR GROUP.
A UNIQUE INVERTER TECHNOLOGY PROVIDES INDEPENDENT ADJUSTMENT OF FORCES AND SPEED(VVVF).
THREE PHASE AC MOTORS WITHOUT REDUCTION GEAR, TO GAURENTEE A SILENT OPERATION.
ELECTRONIC BOARD WITH 32 BIT MICROPROCESSOR.
TWO TROLLEYS PER LEAF WITH LARGE DIAMETER WHEELS.
CROSSED DRAGGING ARMS FOR QUICK INSTALLATION.
MAGNETIC ENCODER TO DETERMINE THE POSITION, DIRECTION AND SPEED OF THE DOOR LEAVES.
EMERGENCY FAIL- SAFE BATTERIES TO OPEN THE DOOR IN EVENT OF POWER FAILURE.
SAFETY STOP/REVERSE .
AUTOMATIC SELF ADJUSTMENT ON TURNING POWER ON.
| | | |
| --- | --- | --- |
| TECHNICAL FEATURES | BI PART | SINGLE SLIDE |
| OPERATOR HEIGHT |  125*180 mm | 175*180mm |
| MAXIMUM CLEAR OPENING | 2950mm | 2950mm |
| MAXIMUM WEIGHT PER LEAF | 160 kg | 120*2 kg |
| OPENING SPEED PER LEAF |   2 M/S2 |   2 M/S2 |
| CLOSING SPEED PER LEAF |   2 M/S2 |   2 M/S2 |
| CLOSING FORCE | 40-140 N | 40-140 N |
| ACCELERATION |  2 M/S2 |   2 M/S2 |
More Information for Visio